Budetang – The Story
Teoh Seow Kong (Lisa's great-grandfather) began to build a house in 1918, in the village of Beitang, Dapu district, in Guangdong County. The house, Budetang, took ten years to build. It has 106 rooms, arranged in a semicircle around 3 middle courtyards, in the ancient Hakka style. At the back of the house there are another five rooms and a stable for goats. There is also a pond filled with lotuses, lilies and fish. All around are fields of rice and other crops, with hills and mountains behind.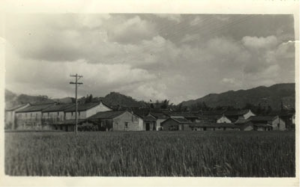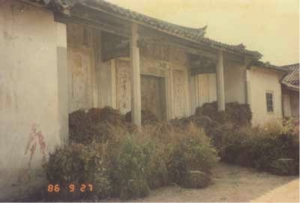 Teoh Seow Kong had about four wives in China, and at least two in Malaysia, to where he emigrated. He returned to Dapu several times, however, and bought more land in the area. He also improved the position of his parents'graves when he was able to afford a better site.
We are not certain who originally filled those 106 rooms, but at least one of his sons, Thong Moh, stayed there. He was the fourth son. His descendants still live there. They are now the only family in the house –living in a small section of the left wing. The house is mainly empty.
It must be a far cry from the time when communism was on the rise, and the house was dubbed 'government property'. Many families moved in. All were farmers who worked the nearby fields and the original family were left an appropriate number of rooms for their own use. The small amount of money made by each resident was spent on food; maintaining the house was not a priority resulting in a steady collapse of the basic structure.
Only the original family invested what money they could save into preserving the house but their income was reduced when Kwan Chen himself was punished in the Cultural Revolution: he was made to leave his job as a teacher. Despite being a Communist supporter and possessing little income the fact that his father had been a wealthy man discredited him and many others in his position. The climate of the Cultural Revolution was one of fear for many intellectuals and local Red Guard brigades had no sympathy, ransacking the house and destroying the shrines, idols, carvings and family heirlooms that had decorated the first courtyard. Budetang was unfortunate because other houses, albeit in more secluded areas, were left untouched.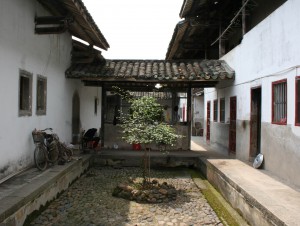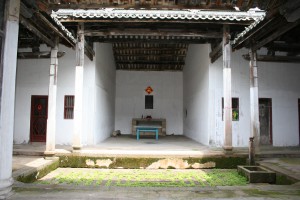 In the 1980's, Deng Xiao Ping restored all land and property to the former owners. All the families moved out to build their own homes, in obedience to the government. Kwan Chen still recalls all these times. He was glad to be rid of all those families, who 'didn't take care of the house'. Ironically, with most of the rooms empty, it is now in disrepair.
There are still tattered remnants of communist posters on some walls.
The family try to repair the house at least once a year, but they are fighting a losing battle. The floorboards are falling apart, and thieves have taken all the steel from the windows, which the family have replaced with wooden sticks.
Teoh Seow Kong, Kwan Chen informed us, was manager of a wine and tobacco company.His boss, Zhang Bi Shi (Cheong Fatt Tze), is a famous Hakka character who owned a house with 99 rooms (Guang Lu Di).
He was fired for building Budetang because it was bigger than Zhang Bi Shi's house, and he was accused of embezzling the company funds. In fact, the money probably came from his successful cloth factory in Malaysia.
Uncle Kwan Chen used to love the fact that Bu De Tang bears such striking similarity to Guang Lu Di, "except it is bigger and better…if only it were restored!"
You can still visit Guang Lu Di, which is in a nearby village and has been restored with a little museum.